Issue #9: Shopify Launches All The Fintech Things, Brex Gets The Bag And UK Challenger Banks Get A UX Review
👋 Hi, FR fam. I hope everyone had a great start to the week and is keeping safe.
Last week Softbank released its annual earning report and the accompanying presentation was an absolute classic. Mixing clipart from the 80s with deft MS Paint skills, Masayoshi Son presented some banger slides. This was my fave 👏
📉 Also, for those interested, according to the presentation Vision Fund 1 is down 1% since inception on a blended net IRR basis 🤔
🛍️ Shopify: The Fintech Few Saw Coming
This week Shopify held it's annual Re-Unite conference. At the online event, they announced the expansion of their financial services offerings to merchants with the launch of a banking (Balance) and a buy-now-pay-later (BNPL) product. This adds to the other financial services products they offer to merchants - Shopify Capital, Shop Pay, and their PoS system (that recently also had a refresh).
Fintech Twitter rejoiced at Shopify further cementing its place as the new poster child for embedded fintech startups. The following meme wholly and accurately summarises the sentiment on Twitter.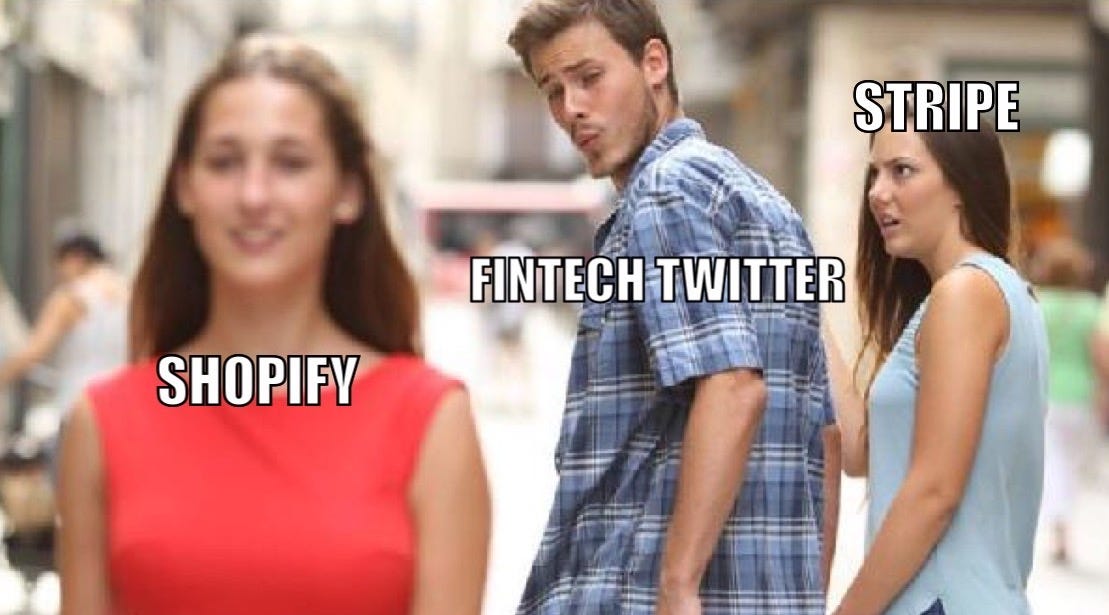 The rise of consumer platforms as the new wave of mega fintech startups is one that has been getting a lot of attention lately - what is generally referred to as the embedded fintech movement. This moniker refers to platforms, like Shopify, deriving an increasingly large amount of their overall revenue from the provision of financial services. In the first act of this wave, the lion's share of financial services revenue is from taking a clip of the ticket on payments (which most are still sharing the economics of with the likes of Stripe and Adyen). For example, looking at Shopify's Q1 2020 results, one can see the increased revenue share payments are bring in (see below).
The embedded fintech wave that Shopify is riding so masterfully is being powered by the ever-increasing SaaS'ification of financial infrastructure. As noted in last week's issue, this trend is allowing players outside of pure-play financial services to move into their customer's financial lives. What Shopify (and the modern wave of embedded fintech players) are doing so well is making these products a natural extension of their offerings. Unlike, for example, airlines offering health insurance or a credit card - the introduction of both Balance and their BNPL product feel like organic extensions to the other products they provide to merchants.
To be fair, the surface area Shopify has to play with is large - improving the lives of merchants and their customers creates many opportunities to incorporate financial services products in a considered way. Having said this, the deliberate and thoughtful way Shopify is adding a 'fintech layer' to their offering is incredibly intelligent. It fits with a strategic direction that goes beyond just upselling merchants on products to increase Shopify's net take rate.
"Where to next?" is something I've been thinking more and more about. If wave one of the embedded fintech movement has been built on payments, wave two will be built on the SaaS'ifcation of insurance, regulatory and identity infrastructure. There is no doubt that when wave two starts to swell, it'll get even more interesting - think the incorporation of a company or business insurance being issued when you open your Shopify store.
💰 Notable Funding Announcements
Globally fintech financing experienced an uptick this week, with 39 funding announcements totaling $914m.
US fintech darling, Brex, this week announced that it had raised a Series C extension of $150 million from existing investors, including DST Global and Lone Pine Capital.
🤓 My Take: Like most of its fintech unicorn counterparts, this raise seems to be aimed at adding further cash to their coffers as they no doubt prepare for some turbulent times ahead - they've already reduced credit limits to their customers. Interestingly, the press release seems to suggest they'll also be using the money to explore acquihires:
The company will use a combination of organic efforts as well as small acquisitions to supplement its hiring and product development efforts.
On a slightly different note, I'll be keen to see which vertical Brex goes after next. To date, they've offered products catered to startups, life sciences and e-commerce companies. The features they offer each are much the same but for slightly more targeted rewards points - for example, their life sciences offering provides 2x points on lab supplies. With a fresh supply of capital, this could be an opportune time to go after new verticals - specifically ones that have been poorly served by the incumbents recently.
Aspiration, the US challenger bank focused on sustainability and 'conscious consumerism,' this week announced that they'd raised $135m in fresh capital.
🤓 My Take: Aspiration is an interesting data point in the world of challenger banking. Unlike others in this crowded vertical, Aspiration is attempting to differentiate itself based not on features but on helping its customers to measure their social impact and reward them for "doing good." For example, Aspiration users can receive extra rewards for "…shopping at stores that do better for people and the planet." They can also track your daily impact and compare your impact scores with that of friends.
The broader social impact data seems to align with Aspiration's value proposition. For example, 86% of people in the US say they're likely to purchase from purpose-driven companies. However, activating customers with this type of proposition still seems to be difficult in the world of financial services and Aspiration's traction supports this to date.
According to the article, they've had 1.5 million sign-ups and $4 billion in transactions has passed through its accounts over the last four years. Which is not the same dizzying numbers some of their European counterparts have reached - for example, in January Monzo announced they'd reached 3.6m customers and had £21bn of transactions on their platform.
📈 Don't forget to check out Radar, an open database of Australia's fintech ecosystem. You can find it here → 📡 SideFund Radar
📧 Feel free to flick me an email if you have any exciting news you'd like me to share with the FR community. I'm me@alantsen.com and @alantsen on the Twitters.
Ps. If you like what I'm doing with FR please feel free to share it on your social disinformation network of choice. Also, I'd appreciate it if you forwarded this newsletter to a friend you think might enjoy it.
---
📰 Articles Worth Reading
🏦 What the challenger banks did differently →
Customer-facing fintechs constantly tout the differences between them and incumbents. This set of articles put them to test.
In this series a UX consultancy shop, Built on Mars, goes through the signup process of 12 UK banks and documents the user experience for each.
It's a fascinating insight into the differences between the challenger banks, inter se, and also between their high street counterparts. The series is four chapters in and I'm hooked.
Here is one of many telling charts from chapter 1 of the anthology.
💳 Underwriting Opportunities Across the Payments Landscape →
In previous issues, I've discussed the opportunity for embedded payments to become a significant revenue stream for any platform business. If you're keen on taking your understanding to the next level - this is the piece for you. Think of this as a masterclass on the topic.
⚰️Fintech is Dead →
Yes, this is one of those 'fintech is dead, long live fintech' pieces. However, it does raise a theme that has generally gone under-discussed during the pandemic. Specifically, COID-19 has shown how robust the fintech landscape now is. The ability of companies like Square to scale their lending business to accommodate the avalanche of PPP loans or Plaid releasing an income API in a few days for the calculation of loans has shown not only the importance of the fintech industry.
---
🥶 From Cold Storage
Instead of an article, this week I've got a book recommendation - The Innovation Stack: Building an Unbeatable Business One Crazy Idea at a Time. This one has flown under the radar but is well worth picking up.
I know, I know, the title made me cringe too - it sounds like something an innovation manager at a bank would add to the company Yammer with a comment around agility. However, the book provides some great insights into the founding of Square. It highlights the many trials and tribulations faced by the founders of fintech companies when they have to deal with legacy infrastructure and incumbents.
One of my favorite stories from the book is the one McKelvey tells around how they convinced Mastercard to change the language in their operating regulations to allow card-present aggregation. I'm going to spoil it for you, but it's a cracker.