Issue #4: More Monster Rounds Announced, Banks (And Tech Companies) Continue To Go Fintech And Invisible Banking Becomes Another Buzzword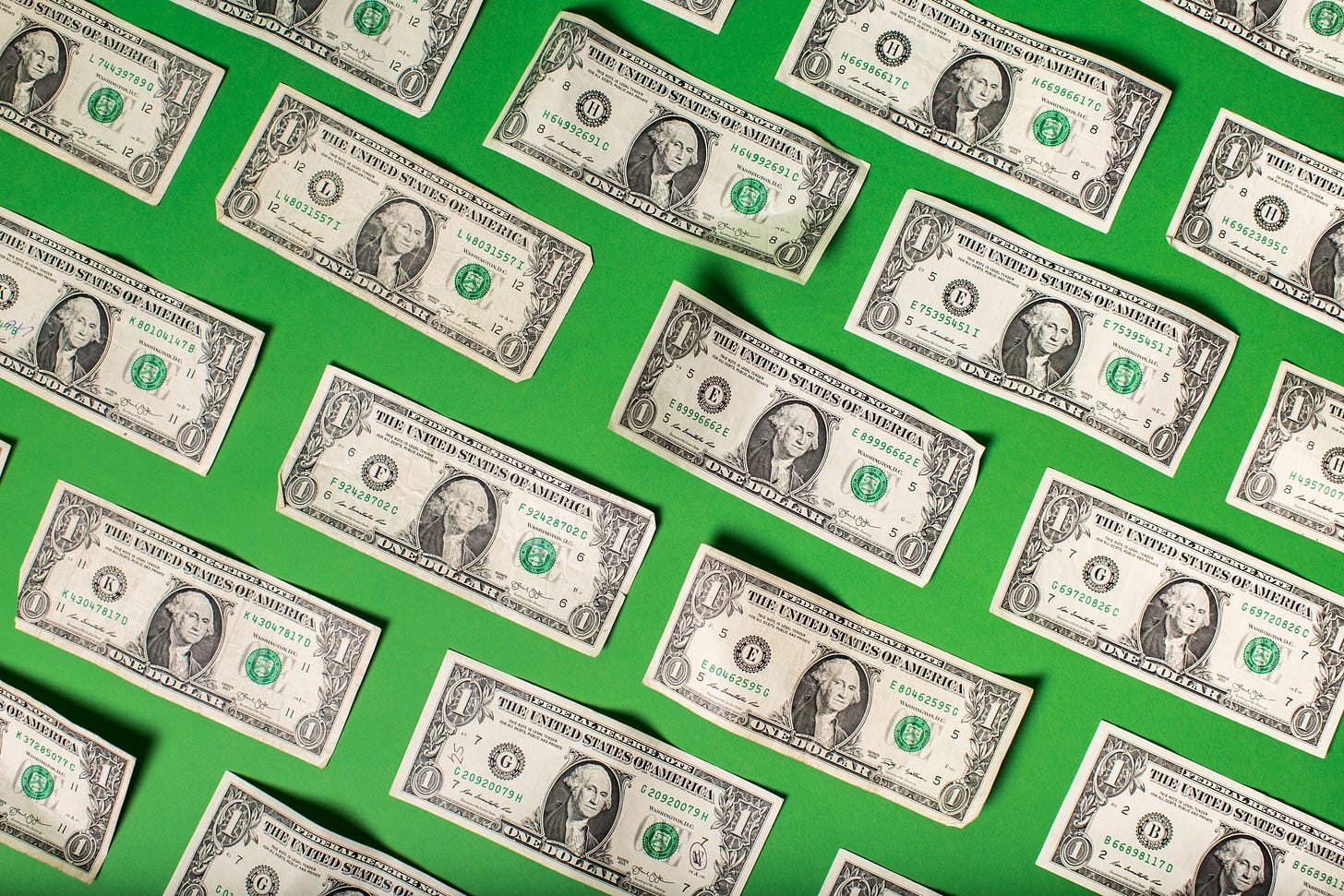 👋Hi, FR crew. I hope everyone is keeping safe and you haven't yet got to the point where you're graffitiing on your bathroom walls.
Raising A Storm
This week has been another busy week for fintech funding announcements, with well-known fintech unicorns, Stripe, Airwallex, and Onfido, all announcing foie gras rounds.
Looking at the recently announced rounds, it seems to be a case of established fintechs trying to reinforce their market lead by building a capital moat around them. Most are being reasonably transparent that they're using the newly injected funds to grow more aggressively - despite the current climate. Having said this, Stripe strangely noted in their press release that they have more than $2bn on their balance sheet - which is presumably mainly debt.
I think this makes a lot of sense, as the opportunity for fintech seems only to be getting more significant as the need for better ways to access financial services is being exacerbated by recent events. However, it'll be interesting to see how this pans out for the ones looking to list in the not too distant future. We might see similar ratchets to the one Square faced when they listed coming into play for those getting a little over their skis in terms of valuations.
Fintech Goes AR
There is the obvious 'but why?' factor to this, but it's great to see people experimenting with different interaction modes for the consumption of financial information.
In my opinion, it's time we start to move away from the ubiquitous tile interface every challenger bank seems to be using, and this seems like an interesting step in a different direction.
Who's Down With DC/EP?
According to this tweet, the PRC digital currency is starting to go live across a few different platforms. Specifically, the tweet below highlights the interface for offline transactions - which would be a super nifty feature.
📧 Feel free to flick me an email if you have any exciting news you'd like me to share with the FR community. I'm me@alantsen.com and @alantsen on the Twitters.
Ps. If you like what I'm doing with FR please feel free to share it on your social disinformation network of choice. Also, I'd appreciate it if you forwarded this newsletter to a friend you think might enjoy it.
---
📰 News
💳 Leaked pics reveal Google smart debit card to rival Apple's
So not sure if you've heard, but everything is fintech.
In a great pick up from Techcrunch, Google is having another crack at a card. To say this uninspiring is an understatement. The images obtained make it look like it's been inspired by the Google employee pass. Also, as with most Google products, it looks like they had a backend engineer design it.
As much as people talk up the threat that tech-fins pose to banks (and fintechs), the reality is most don't have any real fintech chops and will likely never develop them. I mean, where do you find the time to solve real financial problems between shoving ads down peoples' throats?
Like most Google products, I can see this being scuttled after two years.
🏗️ Payments platform Stripe raises $600 million at $36 billion valuation
In a week of monster raises, this was the Godzilla round. In a series G extension (yes, you read that correctly), Stripe has added $600m to their war chest. The round had participation from Andreessen Horowitz, General Catalyst, GV, and Sequoia, who are all existing investors. The financing was reportedly done at the previous round's valuation of $35bn. As a market comp, the under-discussed competitor to Stripe, Adyen, is valued at $23bn.
One of the more interesting things to come from the announcement was the massive uptick in transactions in March for Stripe. Specifically, Patrick Collision noted, "…businesses that joined Stripe since March 1 have generated nearly $1 billion in revenue already." One of the notable businesses that recently become a customer is Zoom - which is a massive addition to the Stripe roster of clients.
As noted above, it'll be interesting to see how this plays out when they eventually look to list - and whether they get buried under the pref stack and ratchets.
🆔 Onfido raises $100 million to verify identities with AI
With the rise of challenger banks, a whole swathe of fintech infrastructure providers have cropped up, and Onfido is one that has become a staple in the onboarding stacks of many. If you've taken a photo of your ID during onboarding for a challenger bank, you've probably interacted with their product.
The news is notable because it points to some of their future ambitions. The article notes, they'll use the fresh capital to grow their business and to further their ambition to "...building an alternative "identity verification" layer of the internet to replace credit bureaus, Facebook logins, and other established channels."
Given the stranglehold bureaus have in most jurisdictions, this is a smart play and one that I'll be keeping an eye on 👀
💳 Airwallex gets $250m raise away despite COVID-19 crunch
Aussie fintech unicorn, Airwallex, also announced this week a big raise that will further allow them to take on the likes of Transferwise and to expand their growing business offering.
The remittance and crossborder transaction account spaces are heating up with many fintech startups seeing an opportunity to solve a problem that incumbent banks should have frankly solved years ago. It's a great example of how incumbent bank lethargy has created a huge opportunity for startups to take profitable customer segments from them.
👏 Also, shoutout to Jack and Lucy for building a global fintech unicorn from here in Melbourne, Australia.
🏦 Goldman Sachs gets into point of sale financing with MarcusPay
The point of sale financing space also continues to heat up with GS' challenger bank, Marcus, now offering a product.
In many ways, Marcus is under-discussed as a challenger bank. It's easy to forget that before Marcus, GS didn't have a consumer finance bone in their body. From a cold start, they've been able to build an excellent offering that is not only available in the US but also the UK. This combined with the Apple deal really solidified GS as a bonafide player in the fintech space.
🌐 Santander launches PagoFX in the UK, a money transfer app to take on TransferWise and other fintechs
In another 'bank goes fintech' story for the week, Santander launches a standalone remittance play - PagoFX.
If you're a fintech nerd, you may remember the famously leaked internal Santandar memo from back in 2017 that highlighted how profitable remittance was for the bank. The memo also spotlighted how fintech startup would cut their lunch if they didn't innovate. So three years later… Pagofx.
Looking over the product, it doesn't seem to be doing anything too radically different from other players in the market. If anything, this is probably a little underwhelming from a product perspective. Having said this, the logic internally will have revolved around the their distribution advantage.
I'll be interested to see how this plays out for them, as Santander has been at the forefront of partnering in the with fintech startups - not building products inhouse.
💸 Chinese tech giant Huawei to launch a new consumer credit card
This falls squarely into the 'every startup becomes a fintech' bucket.
In an announcement made at the launch of the new P40 smartphone, Huawei announced that they'll be offering both physical and virtual cards that are back-ended by UnionPay.
The cards look great, but I can't see these being available in any other markets anytime soon, given the issues Huawei has had offering its products in other countries.
🏦 Banking 2025: The rise of the invisible bank
This piece is an interesting read about a topic that has got a fair bit of airtime in the last 12 months. Recently, the idea that your banks should disappear into the background was popularised by Wealthfront's CEO, Andy Ratcliffe's post on 'self-driving money.'
Personally, I'm not sure about voice banking being a thing - I mean, I can barely get Siri to turn my lights on at home - but the rise of 'thin banking' is definitely a thing. The ideas that I need to check in to my account to take an action constantly will certainly disappear over the next few years as fintechs try to make our money 'self-driving.'
---
🥶 From Cold Storage
💸 FinTech 2.0: Software As The Future Of Payments Distribution
This piece first appeared in the Journal of Payments Strategy & Systems at the end of last year - which is why I think it flew a little under the radar. The article by Ashley Paston and Matt Harris gives a good overview and a rigorous intellectual underpinning as to why software companies will all become payments companies, eventually. To be honest, the piece is worth reading just for the data.
Also, I just want to call out how good the research out of Bain Capital Ventures is. To be honest, I think their writing is some of the best in CVC land.