Issue #27: Greenlight Gets The Bag, FinCEN Leaks Like A Sieve And A Real "Narrative Violation" In Fintech
👋 Hi, FR fam. Welcome back to another issue of FR. I hope you've all had a great start to the week.
Let's do this and jump straight into this week's news in brief.
📣 The News In Brief
The failure of Freedman's Bank and its painful impact on financial inclusion. Regulatory change is accelerating the growth of the Egyptian fintech ecosystem. The story behind Latin America's "anti-bank." The evolutionary design of UP Bank. Goldman Sachs and Walmart partner to provide SMB loans. Stripe, Forester, and Salesforce walk into a press release, and tbh it feels a little strange. NAB lifts the lid on NAB-X. Self-driving money isn't easy (also, you should subscribe to Alex's newsletter - it's awesome). Making lemonade from Wirecard lemons.
---
📈 Notable Funding Annoucements
This week fintechs globally raised a total of $2b across 22 deals.
🎯 Obligatory Robinhood Raise Mention
Guess what? Robinhood raised more money last week. Surprise!
As reported in Reuters, Robinhood added another $460m to its coffers in an extension to their Series Z round - just kidding, it's actually their Series G. As I said back in issue #22, I think VCs have just AfterPay'ed their investment in Robinhood and are now progressively paying it over four monthly installments.
🤓 My Take → If you'd like to read about my take on Robinhood's latest (and now extended) round, check out issues #22 and #24 of FR.
🧒 Greenlight Raises $215m
Last week Greenlight closed a $215m Series C round that values the company at $1.2b. Canapi Ventures and TTV Capital led the round. There was also participation in the round from new investors BOND, DST Global, Goodwater Capital, Fin VC, and Relay Ventures.
🤓 My Take: Let's start with what Greenlight does. Put simply, they're a vertically focused challenger bank with their niche being kids/teens and parents. From a product perspective, they provide a fee-free debit card for children, which a parent can manage through their app, and they monetise via a SaaS business model where they charge $5 per month for up to five children. According to their press releases, they now serve "…2m parents and children.." - which sounds impressive.
Having said this, there's no lack of players trying to capture this segment of the market. In the UK, you have GoHenry and RosterMoney, while in Australia, we have Spriggy. Let's not forget about the horizontal challenger banks like Monzo, Revolut, and Current, who all have teen versions of their products. Even Apple has tried to enter the space with its recently announced Apple Cash Family.
Startups like Greenlight play at an interesting intersection in the world of challenger banks. They provide a highly tailored product for parents and children while also layering on an educational experience geared towards teaching kids financial literacy. In theory, this allows them to mitigate one of the biggest challenges in consumer banking, which is homogeneity - or in other words, the "what's different about this banking product? Cool it's an app with a different colour card. So what?" problem. Further, in this category being able to tailor a product that meets the needs of the demo while authentically speaking to them can be a differentiator (Side note: check out the GoHenry Youth Economy Report for a fascinating insight into the teen banking market).
As you might expect, being able to provide a highly focused product that is part financial utility and part educational resource is a much clearer way to differentiate vs. just offering a different colour debit card (but obviously most do that too). Beyond this, being able to focus your distribution engine on a highly targeted demo, in theory, should allow you to create a comparatively favourable CAC/LTV number.
However, the holy grail for kid/teen-focused neo bank propositions is the ability to capture a customer in their formative years. What most in this vertical are hoping for is that when these once teens graduate to car loans, tuition loans, mortgages, etc. that they think of the neo bank that provided them with their first taste of the financial world. That's when the big bucks start rolling in.
We're yet to see the long play strategy play out in the context of the current crop of kid/teen-focused challenger banks - and to be fair, it's probably just too early. However, we know many incumbents globally have used this customer acquisition strategy to great effect.
In Australia, the CBA (Australia's largest bank) has long used their kid-focused savings program, Dollarmites, as a long tail tactic customer acquisition channel for decades. In fact, according to this article, the program is potentially worth $10b to them. Interestingly, CBA apparently pays schools commission. According to the same piece, in 2016 CBA paid $2.3m in commissions to schools around Australia. Yep, kids are big business - even to banks.
👮‍♂️ Laika Raises Series A Led by Canapi
Laika announced that they'd closed a $10m Series A led by Canapi Ventures. The round had participation from previous investors, including Bain Capital Ventures, NYCA Partners, and Third Prime.
🤓 My Take: Although Laika would probably not be traditionally thought of as a fintech company, I love what they're doing in the compliance space. More broadly, I think it points to what we're likely to see more of at the intersection of fintech and regtech.
So what does Laika do? They provide compliance-as-service. More specifically, they help companies obtain security certifications, become compliant in their industry, and stay compliant. Further, they do all this as a concierge service.
For some context as to why this is interesting, part of the challenge for many startups when they engage with FSIs to sell their product or partner with them, is they are hit with an avalanche of compliance requests. The usual course of action is to hire consultants and lawyers who bill you through the nose to write procedures and set up processes. Beyond this, it generally ends up being pdfs files containing procedures that you store on your company's intranet and few ever look at. In this regard, providing software that better manages this with the expertise required to get a company's compliance in order makes a ton of sense.
One of the things that might jump out at you when looking at their website is that they intentionally have people in the loop to assist with the whole process. In fact, they mention on their website; compliance is nuanced and human judgment is still an internal part of the process. Although startups with a 'consulting' component are often frowned on by investors, it's not uncommon for B2B fintech startups to utilise concierge services to onboard or even provide more traditional consulting services. Given how sticky a customer is in this context, especially if you provide the scaling services associated with compliance, I can imagine the economics (even with people in the loop) work out to be very good.
---
☝️ Things You Should Read About
🇷🇺 Yandex To Buy Tinkoff Bank For $5.5b
According to reports, Russia's largest tech company, Yandex, is set to buy challenger bank Tinkoff for a cool $5.5b.
Tinkoff bank sometimes gets lost in the noise of challenger banking, but it really is a great story about a different way to build a new bank from scratch. The success they've had in Russia is undeniable. In fact, today, it's Russia's second-largest issuer of credit cards and boasts 9m users of their online banking platform.
The bank started in 2006 when enigmatic Russian billionaire Oleg Tinkov invested $70m to get Tinkoff off the ground. Since then, the bank has gone from strength to strength in Russia and has branched out into a massive range of services outside of banking, including travel, ticketing, bookings services, and even mobile phone services - which are all available through their super-app. It's an interesting model that deserves its own issue of FR.
Coming back to the acquisition, it's kind of a big deal that Russia's biggest tech company is acquiring a bank. This is sort of like if Google went out and bought, for example, Varo. This deal also comes at an interesting time for Yandex, as reports on the deal note, it has just ended a payments and e-commerce tie-up with Russia's largest state-owned bank, Sberbank. Meaning there is a lot of scope for them to meaningfully merge Tinkoff into their business.
It'll be interesting to see what Yandex ends up doing with Tinkoff, so stay tuned.
Bonus: Here is an excellent podcast with Oliver Hughes, CEO of Tinkoff Group. If you want to learn more about this beast of a company, this is worth a listen.
📁 FinCen Files Leaks
"Maybe the real compliance was the friends we made along the way?" - All Banks
Last week news broke about a massive leak of files from the US Financial Crimes Enforcement Network (FinCEN). Specifically, more than 2100 suspicious activity reports (SARS) and a range of other documents were leaked to Buzzfeed. The records were then passed on to the International Consortium of Investigative Journalists (ICIJ), who has been doing some fascinating analysis around the transactions. Reports have subsequently revealed some of the transactions mentioned in these SARs and have connected them to various unsavory characters.
There's been a wide range of commentary in the media and on fintech Twitter about the leaks and what they mean. One of the more interesting pieces on the topic is from the 11FS crew (you can find the post HERE).
I think very reasonably, they point out some of the challenges with SARs (which are basically designated service providers having to tip-off FinCEN that something dodgy might be going on) and, more broadly, how banks have in substance become "money police" - which is a big responsibility. They also point out how tech-based solutions are ultimately how this will likely be solved in combination with better co-ordination—all excellent points.
Having said all this, one thing that the piece fails to call out is the cultural element to compliance. A great case in point is the recent Westpac $1.3b settlement for breaches of the AML/CTF Act here in Australia.
Last week, the Westpac settled a case that Australian Transaction Reports and Analysis Centre (AUSTRAC) where they admitted to breaching the act 23m times! There are many things in the 93-page statement of agreed facts and admissions, which are just mindblowing - they include the crazy tech issues (like 15 people leaving their tech team and thus no-one knowing how the spaghetti IT system worked), but what stands out is the poor culture around compliance.
The fact is, you can modify the law, you can have better coordination between agencies and banks, and you can even implement better regtech solutions. Still, if people at banks and other FSIs don't care about compliance, the SARs/IFTIs are always just going to end up in the proverbial trash can.
🤑 Transferwise Is Profitable (For Four Consecutive Years)
Last week TransferWise announced that for the fourth year in a row, they'd made a profit.
I think this is what the cool kids call a "narrative violation."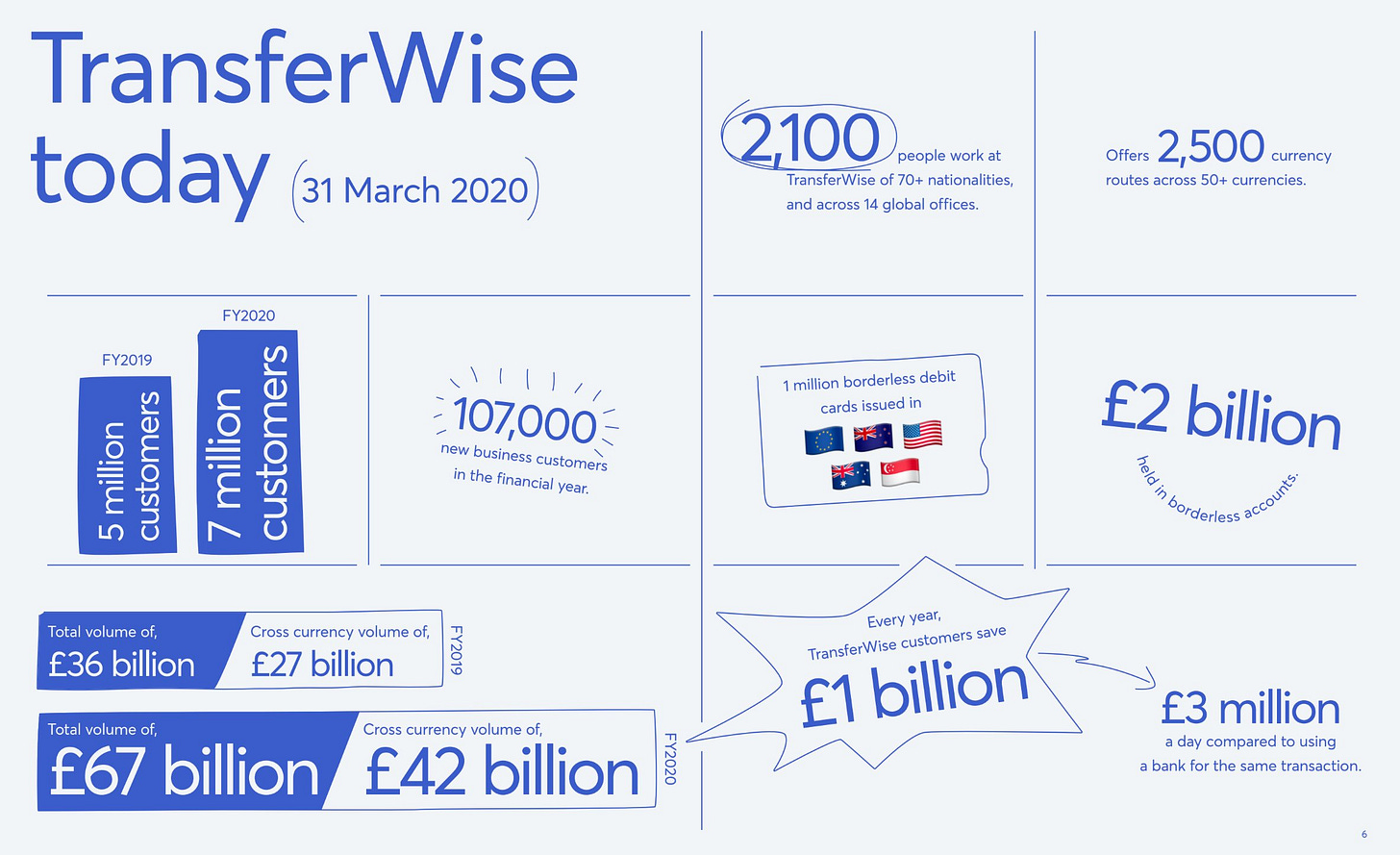 In fact, they noted that their net profit had more than doubled this year to £21.3 million. This was on the back of £42 billion in cross-border payments which equated to £302.6 million in revenue for the financial year April '19- March '20 (which is up almost 70% from the previous year).
In the world of fintech, a profitable company is rare. However, TransferWise has shown you can do it at scale and all while growing like wildfire. Congrats to the team on showing everyone how it's done!
---
🎧 Podcasts To Listen To
This week for your auditory pleasure, I've included a podcast on Ant's upcoming IPO and one on the state of open source in fintech.
Breaking Down Ant Group's Proposed $200 Billion IPO with Max Friedrich and Lex Sokolin → The Ant Group is a fascinating company. It stretches my mind every time I learn more about what they do. This is a conversation about the upcoming IPO with so super sharp peeps.
#FintechCaraoke: How Moov Are Leveraging the Power of Open Source with Wade Arnold→ I love what Moov is up to and the open-source model they've adopted in building their product. This a great pod with Moov's founder, Wade Arnold, and well worth a listen. 👂
---
❤️ Show Some Love For FR
📈 You can check out Radar, an open database of Australia's fintech ecosystem. You can find it here → 📡 SideFund Radar
📧 Feel free to flick me an email if you have any exciting news you'd like me to share with the FR community. I'm me@alantsen.com and @alantsen on the Twitters.
Ps. If you like what I'm doing with FR, please feel free to share it on your social disinformation network of choice. Also, I'd appreciate it if you forwarded this newsletter to a friend you think might enjoy it.