Image: Death To Stock
👋 Hi, FR peeps. I hope you've all had a great start to the week.
Fintech never sleeps, and this week is no exception, with more fundraisings announced and new products being launched. But before we jump into this week's content, a quick reminder of how much bigger FS has become over the last decade.
---
If you enjoy this newsletter, make sure you share it with a friend - remember, sharing is caring!
Revolut launch crypto trading in Australia. The Philippines is the latest country that is looking to release a digital bank framework. According to reports, Australian neobank Volt tried to raise at a 50% haircut to their previous round - ouch. The story behind the FT's investigation into Wirecard is a fantastic yarn. Amazon's under-discussed Indian fintech focus continues to grow. Paypal expands its BNPL offering, and Aussie public market BNPL investors get spooked. US challenger bank, Current, goes old school and offers brick and mortar cash deposits. Wealthfront takes another step towards driverless money with the release of Autopilot.
This week in fintech financing news, $412m was raised across 12 deals.
🏦 Challenger Bank, Neon, Raises $300m
This week Brazilian Neobank, Neon, announced a $300m Series C funding round. The round was led by General Atlantic and included participation from Vulcan Capital, PayPal Ventures, and Endeavor Catalyst.
🤓 My Take
Last year was a breakout year for fintech in Latin America. In 2019, fintechs across region raised $2.1bn (which was 3x on the 2018 total amount raised) across 139 deals. Latin America is also home to the most highly valued challenger bank in the world, NuBank, and has seen some serious growth in the sector as mobile solutions have taken off - in part driven by increased internet penetration and smartphone adoption. When you combine this with a willingness in certain countries in the region to experiment with FS policy - like open banking in Mexico and Brazil you start to pull together all the ingrediant for a high growth fintech sector.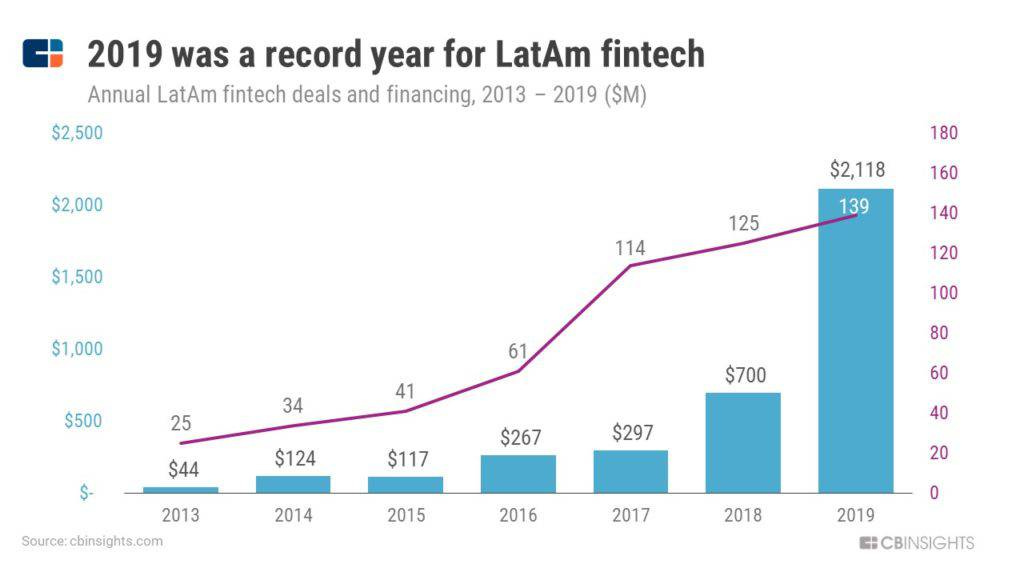 Neon is another excellent example of how quickly players in Latin America have been able to grow their consumer base serving the unbanked/underbanked. According to their press release announcing their latest raise, Neon has more than 9.4m customers and has grown 26% since March.
Much like what we're seeing in other regions (e.g., Southeast Asia) where an emerging middle class is seeking out financial services that are on par with their other digital experiences, the rise of fintech is happening at a brisk pace in Latin America. As I've previously noted, it's a region that is well worth monitoring for more breakout fintech companies.
💵 Capchase Raises A $4.6m Seed Round
Debt financier for SaaS startups, Capchase, announced this week that they'd raised a $4.6m seed round led by Bling Capital, SciFi VC, and Caffeinated Capital.
🤓 My Take
As the SaaS sector grows, so do the financing solutions available to these companies. Receivables financing is nothing new, it's been around for a long time, and several fintech 1.0 startups built products around taking what was previously a paper-driven decisioning process and transforing it into digital experience. The likes of Square and Paypal have also joined the fray by leveraging their data to offer revenue-based loans which has added further options to many brick and mortar operations.
Capchase, much like the broader trend we're seeing with lending startups, is taking a more veritcalised approach. As Miguel Fernández, CEO and co-founder, notes CapChase is looking to provide finance for a very specific slither of the SaaS market.
We're targeting B2B SaaS or 'X-as-a-service' companies with recurring revenue, and we're targeting companies around the seed to Series B/C stage having more than $1 million of ARR and at least eight months of revenue generating history…
The options available to SaaS founders are growing. Everything from venture debt financing through to complicated financing structures being created by venture funds trying to invest in profitable SaaS businesses are now available for SaaS founder. However, and somewhat stragely, they all seem to be expensive and/or complicated - which is why many of these new lending business are entering the space.
Having said this, the market for these types of lenders has quickly become fairly crowded (for example, Pipe which is a very similar propositon recently raised a $6m round). Given the challenges in differentiaing lending proposition - after all most customers only care about is who is giving the best rate and putting the money in their account the quickest - it'll be interesting to see who can actually make the business model work.
🗳 The Fintech 250: The Top Fintech Companies Of 2020 →
The CB Insights fintech 250 provides a neat mapping of the global fintech landscape. It's always a great way to see who the 'big dogs' are in any given vertical.
Some data highlights from this year's Fintech 250 list include:
Ribbit capital is the most active VC in this year's fintech 250. According to CB Insights, they've been involved in 45 deals in this year's cohort of startups.

Grab is the most well-funded company, having raised a $9.7bn across 22 rounds (that's right 22 rounds!) of funding.

13% of the Fintech 250 are valued at over $1bn as of their last round of financing.

46% of the Fintech 250 are based outside of the US. The UK (38) has the second most fintechs on the list, and that's closely followed by India (20).

In terms of listings and acquisitions from the Fintech 250 class of 2018, 10 have gone public, and 13 have been acquired.
👮‍♂️ Robinhood Reportedly Hit By SEC Fraud Probe, Possible Fine Of Over $10 Million →
According to reports, Robinhood is under investigation by the SEC for failing to disclose that it had been selling client orders to HFT houses. The civil fraud investigation could result in fines of more than $10m if they decide to settle the matter with the SEC, according to the WSJ.
In many ways, this is probably unsurprising. As I noted in issue #22, Robinhood has been under fire on several fronts - everything from civil ligation for gross negligence over platform outages through to concerns being raised by congressmen about the platform's safety after a user committed suicide in June. The mammoth amount of capital they've raised this year will no doubt get them through the investigations and the potential associated fines. However, as Robinhood continues to grow and, as a result, become a bigger target for regulators and politicians, it'll be interesting to see if more serious regulatory scrutiny follows.
Most concerning for Robinhood would be the tightening of regulation regarding payment for order flow (PFOF), which accounts for the lion's share of their revenue (~70%). Although only an existential risk at this point as it is common practice amongst other brokerage houses (for example, PFOF is about 17% of ETrade's revenue), the way Robinhood has industrialised the practice could add further fuel to PFOF being more tightly regulated.
Beyond this, if they do have a listing planned this type of regulatory action (i.e. one that goes to the core of your business) will be something they'll be keen to sort out ASAP.
💡Fun Fact: Bernie Madoff was a pioneer in the practice of PFOF, and although unrelated to his fraud schemes, it was one of the things his firm was well known for. THIS piece provides a bit of the history on how Bernard Madoff Investment Securities pioneered the practice and how controversial it was at the time.
Tandem Bank Due For Major 'Restructuring' As It Winds Down Credit Cards →
OG challenger bank, Tandem, this week, announced to its customers that they were scraping their credit card line. As the article notes, the sunsetting of their credit card offering was because the product had proven to be too costly. This is even though the neo bank had introduced a fee earlier this year.
Challenger banks in the UK have been copping a fair bit of criticism recently over their business models and how long term sustainable they actually are. Although these critiques are nothing new for them, the current uncertain climate is exacerbating the concerns around their losses making businesses.
To be fair, the Big 3 (Revolut, Monzo, and Startling) have only been around for six years, and for the most part, they're still trying to scale their offerings and capture market share - which they're all doing well at. According to Accenture's Digital Banking Tracker, UK neobanks nearly tripled their customer base in 2019, from 7.7 million customers in 2018 to almost 20 million in 2019 (that's 150% growth). For context, incumbent banks in the UK have grown their customer base by 1% over the same period.

Most have escalated their profitability strategy (which almost feels comical to write) in light of capital being harder to come by without taking sizable haircuts on valuation. The rest of 2020 will an interesting time for the Big three as they try to find a path to sustain their growth while getting to at least sustainability.
Sustainably Differentiated Lending →
I've featured a fair few pieces in previous issues from Ayo Omojola, and they've always been bangers - and this is no different.
This post focuses on lending and what makes for a sustainable business in the space. I highly recommend it - especially if you're thinking about lending from an embedded fintech perspective.
This week I've decided to pull out from cold storage a three-part series on market places from Sarah Tavel of Benchmark.
Although they aren't squarely fintech centric pieces, I thought these posts might be of interest to those thinking through a market place product. There are some great insights contained in this series of essays. Enjoy!
The Hierarchy of Marketplaces — Introduction and Level 1 →
Hierarchy of Marketplaces — Level 2 →
Hierarchy of Marketplaces — Level 3 →
📈 You can check out Radar, an open database of Australia's fintech ecosystem. You can find it here → 📡 SideFund Radar
📧 Feel free to flick me an email if you have any exciting news you'd like me to share with the FR community. I'm me@alantsen.com and @alantsen on the Twitters.
Ps. If you like what I'm doing with FR, please feel free to share it on your social disinformation network of choice. Also, I'd appreciate it if you forwarded this newsletter to a friend you think might enjoy it.