Issue #22: Robinhood Raises Yet Another Round, JPMorgan Plans Finn 2.0 In The UK And A Look Back At An OG Embedded Fintech Company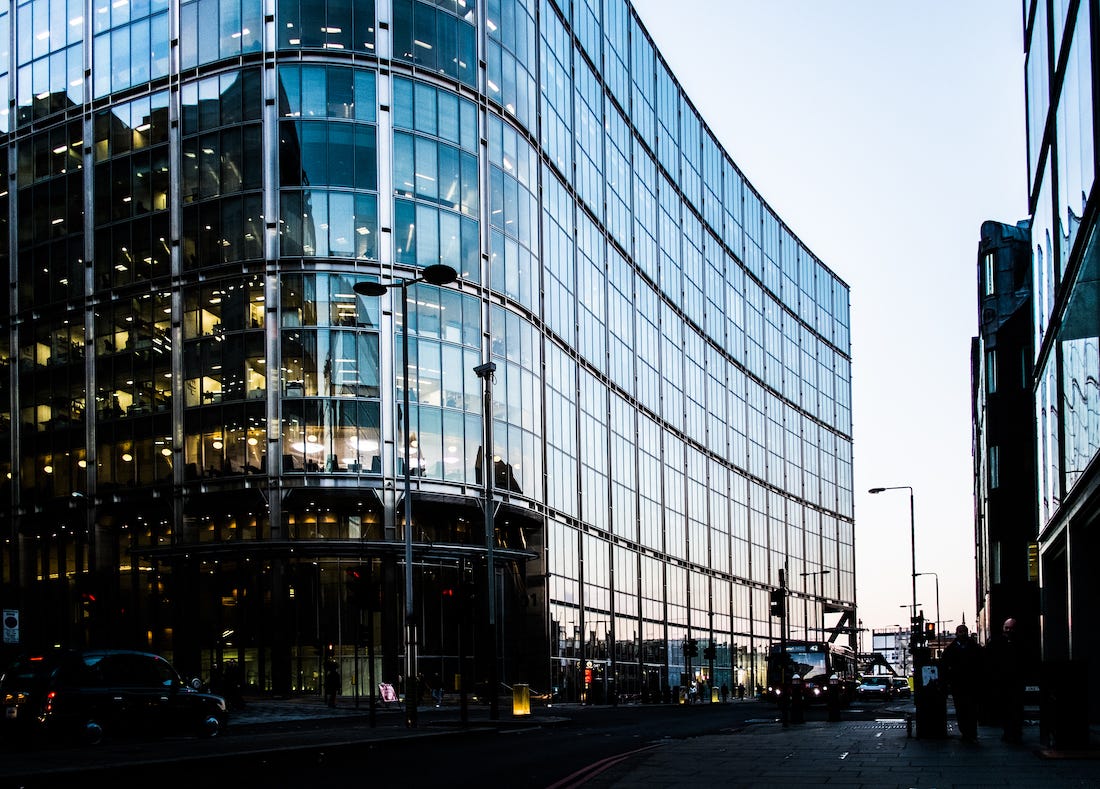 👋 Hi, FR fam. I hope you've all had a great start to the week.
🤝 Issue #2 of The FR Breakdown Will Be Hitting Inboxes This Week
You may have noticed issue #2 of the FR Breakdown didn't make it to your inbox last week 😔. To be honest, issue #2 took longer to write than I expected. I promise it'll be hitting inboxes tomorrow (Wednesday), and trust me it'll be worth the wait - especially if you're in consumer fintech.
---
If you enjoy this newsletter, make sure you share it with a friend - remember, sharing is caring!

It looks like the once laughed at QR code is becoming an everyday part of our lives. Coinbase wins an interesting court case. There's a growing divide in mortgage rates in the US, and it doesn't seem to make much sense. In another 'what?!?' from the Wirecard debacle, BaFin (Germany's FS regulator) employees were apparently trading shares in the months leading up to Wirecard's bankruptcy. Speaking of Wirecard, Railsbank is possibly buying part of the Wirecard carcass in the UK. Get ready for it; AR is making an appearance in fintech products. It turns out AmEx just wanted Kabbage's tech and talent (not their loan book). Iran shuts down 1,100 illegal cryptocurrency mining operations, and TIL Iran offers crypto-mining licenses. In a tight fundraising market for UK Challenger banks, Atom is looking to raise up to £150m.
This week Robinhood announced that they'd added $200m in capital to their balance sheet. The Series G round of funding brings the online stock trading platform's valuation to $11.2b. D1 Capital Partners led the round.
🤓 My Take: Robinhood's Series G round of funding (yes, that's right Series G) comes only one month after their last round - which incidentally was at $8.6b valuation. At this point, it feels like VCs have Afterpayed their funding into Robinhood and are paying it off in installments.
By all reports, Robinhood is growing like wildfire. But why all the capital? Afterall, it was just a few weeks ago they shelved plans to expand to the UK and, more broadly, don't seem to be all that interested in international expansion. So what's with the monthly capital raising cadence?
Persoanlly, I think the answer is a listing. The Robinhood co-founders have always been adamant that a listing was on the cards. So this might be the cash injection before a debut on the NASDAQ ticker right alongside the stocks they trade on their mobile app. However, another answer might be hinted at in the blog post announcing the capital raise.
Robinhood has faced a barrage of negative press in recent months over everything from the way it has gamified stock trading through to how it makes money from selling its order flow to Citadel Securities.

The negative press coverage hasn't impacted trading volumes, which have been sharply up this year. However, with the increased media scrutiny could come regulator scrutiny. For example, it was telling that in the blog post announcing the latest raise, prominently placed in the middle of the page was a graphic highlighting the uptick in users accessing their learning materials. Along with the graphic, they noted:
We're inspired by the ways people are using Robinhood to learn more about the markets. The last several months, in particular, have demonstrated that participation in the markets can be powerful for people. We're also seeing that our customers are using this time to educate and inform themselves.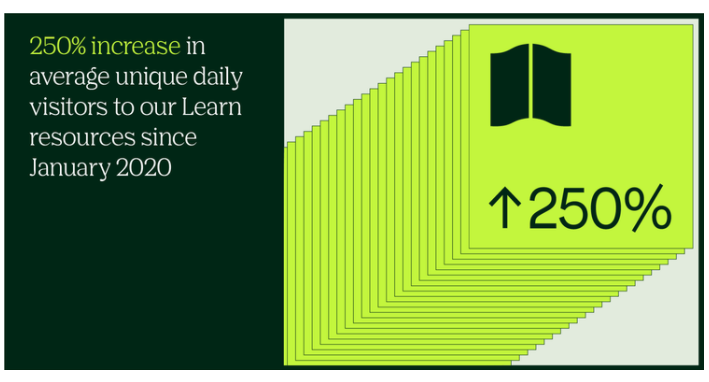 In recent times, Robinhood has also been trying to make other changes to its platform to counter criticisms of how it has gamified trading. This has included removing customer stock holding data and restrictions on their API.
Of course, there could be a more straightforward answer - they received a good offer at a reasonable price. Let's be honest, a $2b increase in valuation in a month and another $200m in capital (probably on good terms) would've probably been hard to resist 🤷‍♂️
This week open source banking infrastructure player, Moov, announced they'd raised $5.5m in a seed round led by Bain Capital.
🤓 My Take: For the uninitiated, Moov is the fintech nerd company of choice to discuss when talking about the future of banking infrastructure. It's quickly becoming a must to name-check the company when talking about how distribution is going to look for BaaS products in the future.
When you go to their website, you'll see it looks and feels like a modern developer tool. In comparison to many other BaaS products that make you first talk to a salesperson before you can grab your API keys and take the product for a ride, with Moov, you jump on their Github, clone the repo, and start to modify the source to fit your use case. The best way to think of them is Cloudera (Hadoop) for BaaS (ACH et al).
In a world where developers are used to using tools like Twillio and Stripe entering the world of BaaS products can be disorientating - Moov feels like the antidote this. To be fair, it's only early days for the company, and there's still a long way to go before you see the 'powered by Moov' badge plastered on websites. Currently, they're US-centric (being international amplifies complexity exponentially for BaaS companies) and they're focused on an important (but narrow) set of use cases related to payments (and related services) on the complex ACH rails. Having said this, it's definitely a company worth keeping an eye on.
Also, if you're keen on reading some love letters/ deal memos from their investors, you can find the Bain Capital one HERE and the RRE one HERE. For those looking to take a deeper dive into the product and get a sense of the buzz around it, I'd suggest joining their Slack HERE.

🏦 JPMorgan To Launch A Digital Bank In The UK As Growth In Sector Slows →
According to reports, JPMorgan is looking to follow the lead of GS and launch a digital bank in the UK later this year.
You may recall that JPMorgan tried their hand at a digital bank in the US back in 2018. The millennial-focused app-only bank was called Finn and lasted one year before JPMorgan scuttled it. At the time, it was decided that Chase was better suited to serving these customers vs. a new offering.
In the case of Marcus, part of its success can be attributed to the fact that before its launch, GS didn't have a retail banking presence. This means they haven't had a Finn like problem with the brand. That is, there isn't a deputy vice president of something or other that is complaining about how the new product is taking customers away from his line of business (read as: impacting his bonus). JPMorgan and others who have a significant retail bank presence will always have this issue, and I'm not sure that launching in another country necessary solves this problem for them - especially one that already seems to be saturated with challenger banks.
💰 Payments Industry Should Be Worried By Fortnite Suing Google — Not Apple →
I thought this article was an interesting take on the potential impact the current dispute between Apple and Fortnight could have on the payments industry.
I think the pieces posses some good questions around how this dispute (especially, when you wrap Google in to the discussion) could embolden merchants to push back on interchange and wallet fees using similar logic. Having said this, we saw how this played out in Australia not that long ago when Aussie banks tried to band together to bargain with and boycott Apple's ApplePay product collectively. Suffice it to say, it didn't work out all that well for the four largest Aussie banks in Australia who control ~80% of the market.
💳 First Banks, Retailers Jump On EFTPOS' Digital Payments Offering →
Eftpos Australian this week announced that they've begun processing the first online payments through their new digital payments solution.
For my non-Australian based readers (and even some of my Aussie readers), this story might not sound all that interesting, but the back story to it is a cautionary tale about why defaults matter.
Let's start with a little bit of background, specifically let's begin with what happens when you tap a debit card on a PoS terminal in Australia. This ubiquitous act we all do when making a payment in Australia, has resulted in a hotly contested debate around which rails the payment should be made on. If you look at the back of your bank-issued debit card, it'll likely have the EFTPOS logo on it, while on the front, it'll probably have a scheme's logo (e.g., Visa or Mastercard). So when you tap your card to pay for your coffee, which payment rail does the transaction get done on? Visa or EFTPOS? Also, as you probably guessed, there is a price difference between these options (with the schemes being more expensive) - which in the end a merchant has to absorb.
For the most part, this has been solved by least-cost-routing (LCR) - which as the names suggests routes a payment on to the cheapest rail (if you want to read more about this, you can check out what the Australian Reserve Bank has to say about the issue HERE). However, as I understand, it's still not available across all terminals.
So this brings us to the actual story. EFTPOS now has an online product designed to bring LCR online. As commerce continues to move to the web, the issue of payment routing is now likely to be contested online.
To be fair to all involved, there is a lot more context to the issue of payment routing. However, it's an interesting story in the context of Australia's payments market structure, and it could be an issue to watch, especially if we see the roll-up of the NPP, BPay, and EFTPOS Australia.

In many ways, Apple is the OG in the embedded fintech space. For years now, they've offered everything from insurance (AppleCare) to BNPL for their products (via Latitude in Australia). However, the most significant play they've made in fintech is Apple Pay, which has placed them front and centre for many consumers as their day-to-day interface with payments.
So this week I thought I'd pull THIS PIECE out from cold storage. It's a post written by Chamath Palihapitiya back in 2014 on how Apple was at that time position itself to disrupt financial services infrastructure - it's well worth a read.

📈 You can check out Radar, an open database of Australia's fintech ecosystem. You can find it here → 📡 SideFund Radar
📧 Feel free to flick me an email if you have any exciting news you'd like me to share with the FR community. I'm me@alantsen.com and @alantsen on the Twitters.
Ps. If you like what I'm doing with FR, please feel free to share it on your social disinformation network of choice. Also, I'd appreciate it if you forwarded this newsletter to a friend you think might enjoy it.