Issue #20: Some Tay Tay Fintech Memes, More Embedded Fintech Stuff And Blockchain School For Everyone
👋 Hi, FR fam. I hope you all had a great weekend.
It's been another massive week in fintech land, so let's jump into it. But before we do, here's an epic Twitter thread of Tay Tay as challenger debit cards 😂
---
If you enjoy this newsletter, make sure you share it with a friend - remember, sharing is caring!
Insurtech has been running hot (despite what the funding data might suggest). Just when you thought the Wirecard story couldn't get any stranger, apparently they were a payment processor for the mafia. Another P2P lender is being acquired. Now it's RaterSetter being bought for "up to" £12M by Metro Bank. US Challenger bank, Current, this week launched a rewards program for its debit card users - and it also resulted in some sparks on Twitter. Along with TikTok, WeChat has 45 days to get out of the US. The Federal Reserve this week announced further details regarding FedNow, "…a new 24x7x365 interbank settlement service with clearing functionality to support instant payments in the United States". Grab makes further inroads into fintech with the launch of a BNLP and micro-investment service. John Legend invests in a neobank that "uses AI to improve your credit."
In what was a slower week for fundraising, 27 transactions collectively raised $345m.
💸 Orum announces a $5.2m seed round led by some big-name funds
This week Orum announced they'd raised a $5.2m seed round. Homebrew led the round with participation from Inspired Capital, Acrew, Bain Capital Ventures, Clocktower, and BoxGroup in the funding round.
🤓 My Take: According to their website, Orum is "enterprise software that breaks down barriers in a disjointed financial system." Their first product, Foresight, aims to allow FSIs to move money in realtime. Their API enables an FSI to check if fraud at play on a transaction and if it comes back as a 'no', it is 'pre-authorised.' So sort of Faster Payments but by way of better risk/fraud detection. According to the article, they're currently working with 50 customers and have a waitlist.
If you're looking to transfer money bank-to-bank in the US 'instantly' (i.e., via ACH), it'll cost you. In some instances, consumers pay ~$US30 for the privilege. The high cost is in part because a bank has to wear the risk of a fraudulent transaction. In theory, FedNow solves this problem in the long run (like many, many years from now). So this probably provides a way for FSIs to in substance provide a Faster Payments like experience without creating yet another abstraction layer on their spaghetti infrastructure.
This is a smart product and shows how much whitespace remains in payments infrastructure. Having said this, I'd be interested to understand what impact the implementation of FedNow would have Orum. Presumably, Insight is part of some broader suite of APIs that can be used for other transaction monitoring activities - so probably not much.
👋 Hey (no, not that one) raises a series E from Bain Capital.
This week Japanese eCommerce and digital payments platform, Hey, announced that they'd raised a $66m series E from Bain Capital.
🤓 My Take: In many ways, Japan was a trailblazer in the e-wallet space. I remember traveling to Japan when I was in high school and seeing the Osaifu-Keitai mobile wallet service (it's basically, an Oyster card on steroids) and being gobsmacked by the ability to do than just make a call on a mobile phone. Fast forward to today, and Japan is an entirely different world when it comes to e-comm, payments, and banking. For example, Cash is still popular, and accepting merchant payments is still somewhat complicated. As noted in this article by Darren Abrahamson, managing director of Bain Capital Tech Opportunities:
It has been fairly complex for merchants to actually accept even just multiple credit cards. You need to have multiple different networks. And so, the issuers and the acquirers really only focused on the larger merchants to even just have credit card acceptance. There has always been a long tail of your small businesses — the mom-and-pop shops, the convenience stores — which are a huge part of the economy in Japan that frankly just never adopted any form of non-cash payments at all until fairly recently."
Hey is a curious beast, in that it's sort of like Square/Shopify (it does PoS and e-comm) but with a broader focus on payments and it's Japan-focused.
This is an interesting investment from Bain on what seems like a geographically concentrated bet. Having said this, it's a great reminder that there are many markets where payments and e-comm are a semi-unsolved problem.
🛍 Fintech Scales Vertical SaaS →
Embedded fintech is so hot right now (best said with a Mugatu'esque twang). This piece by A16Z takes a deep dive into why so many are excited by what it allows non-fintech companies to do.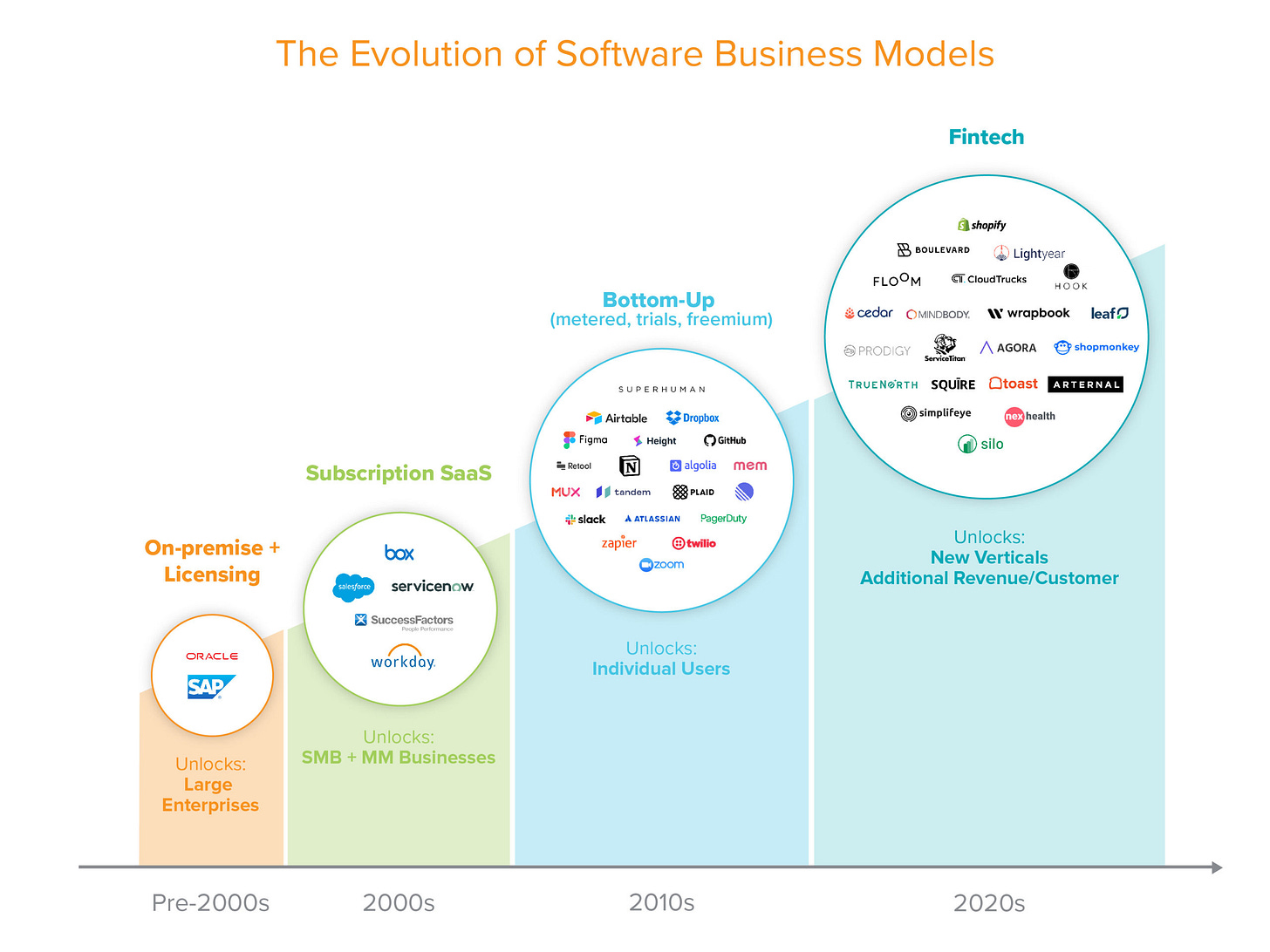 It's a piece worth reading as it goes beyond the usual embedded payments discussion and touches on lending, insurance, and bank accounts.
Interestingly, the post profers up some views on how fintech can help increase the market for vertical SaaS businesses. Specifically, it points out two ways; (i) increasing revenue per customer and (ii) by unlocking new verticals. A16Z estimates that embedding a fintech product could offer vertical SaaS players 2-5x more revenue versus a standalone software subscription. If you're interested, their maths on how they get to this multiple is contained in the post.
I'm not sure that for most SaSS plays, the revenue multiple is in the 5x range. Having said this on embedded payments play for an ISV, payments revenue being a high proportion of overall revenue is not uncommon (e.g., Mindbody) - enough for fair few to start thinking about hiring a Chief Fintech Officer™.
💳 Uber's Departure From Financial Services: A Speed Bump On The Path To Embedded Finance →
Continuing the embedded fintech theme, this is a great piece that provides some further context as to why embedded fintech matters.
The article refers to some work done by Lightyear Capital on embedded fintech. According to their research, they estimate the vertical will "…grow to nearly $230 billion (in revenue) by 2025, up from $22.5 billion this year".
As you can see from the above graph, they estimate most of this will come from the embed payments space - which still presents the clearest opportunity for non-FS players. However, I think the most exciting thing about embedded fintech is the new-new things that will emerge.
In my opinion, the most exciting thing about embedded fintech is the ability for non-FS players to take advantage of their platform's inherent strengths (also why vertical SaaS is going to be the biggest winner) to offer new and exciting FS products (e.g., Square Capital).
🏦 Google Expands Digital DDA Program To Six New FIs →
According to the article, Google is expanding its digital payments and banking services in the US. Specifically, Google is now partnering with six new banks to provide digital chequing and savings accounts to Google Pay customers. The accounts are expected to be launched in 2021.
From the articles on this announcement, it seems that Google is attempting to offer a co-branded product with its banking partners. That is, it doesn't seem to want to use these banks as a BaaS provider for their product. Much like Apple did a co-brand with GS, Google appears to taking this playbook and expanding it over several FSI.
In previous issues, I've discussed the fact that big tech has traditionally not been able to get beyond announcements when it comes to fintech. It'll be interesting to see whether this will be another Google Wallet debit card or the start of broader ambitions in the fintech space.
Finding an excellent course on blockchain tech is hard to come by - especially a free one. Having been involved in writing one, I can tell you most of the stuff out there is garbage. So it's great to come by a robust set of materials for the blockchain curious.
This week Andreessen Horowitz released a set of course videos and notes from their Crypto Startup School. It's a great little course that's highly watchable - it's the right balance of density, entertainment, and big picture thinking.
The most notable thing about the course: the focus on open blockchain platforms, not closed networks.
📈 You can check out Radar, an open database of Australia's fintech ecosystem. You can find it here → 📡 SideFund Radar
📧 Feel free to flick me an email if you have any exciting news you'd like me to share with the FR community. I'm me@alantsen.com and @alantsen on the Twitters.
Ps. If you like what I'm doing with FR, please feel free to share it on your social disinformation network of choice. Also, I'd appreciate it if you forwarded this newsletter to a friend you think might enjoy it.