Discover more from Fintech Radar
Fintech Radar is a weekly missive about all that's happening in the world of fintech.
Over 3,000 subscribers
Break Down #1: A Break Down Of Fintech In Q2 2020
In the first issue of the Weekly Break Down, I dive into what's happened on the fintech funding and M&A front in Q2 2020
👋 Welcome to this week's issue of the Break Down! In this weekly missive, I'll dive into a topical/ interesting/ under-discussed area of fintech and provide you with a break down of what's going on. There'll be lots of opinions and data, so get ready to nod in agreement, disagree, and in some instances comment in ALL-CAPS about how vehemently you disagree with me (which you can do below in the comments section 😀).
Don't forget, if you enjoy this newsletter, make sure you share it with a friend - remember, sharing is caring!
🎢 2020: What A Ride (So Far)
Fintech has been on a continuous high for the last few years. Funding has been flowing in, there's been robust M&A activity, and most importantly, consumer adoption has been on the rise. All this has resulted in more consumer fintech startup being hatched, which has in turn driven demand for fintech infrastructure, which has in turn resulted in incumbents being FOMO'ed into investing in startups and (occasionally) partnering - and so the fintech flywheel has spun.
Then 2020 happened.
📉 What Goes Up Must… Keep Going Up?
This year was shaping up to be a big one for fintech. The sector was coming off an absolute banger of a Q4 from a funding perspective (an all-time high for a Q4 with $9.37b deployed into the sector and eight new unicorns being minted).
The market started the year on fire with some high profile acquisitions that returned capital to investors (nothing better to fan the fintech flames) and sparked more high street interest in the sector. Notably:
The year was going according to plan. Then COVID19 hit, and what was once clear become shrouded in doubt.
The "unknown, unknowns" were generating concerns about how markets would react to a pandemic. I mean, who's ever had to deal with a pandemic? Investors and founders alike started to question what 2020 (and 2021) would look like. What was going to happen to capital markets? Would incumbent FSIs shelve partnerships? Would loan book impairments skyrocket? Would the M&A market be dead? Fintechs braced themselves for an uncertain time for the sector.
When industry data for Q1 2020 was released, what many anticipated happening to venture financing was confirmed. The market was off by ~$1bn as compared to Q1 2019 - which meant Q1 2020 was the lowest it'd been since 2016 for a Q1. As a result, we saw unicron births slow down, and overall deal volume fall.
The sharpest pullback was for early-stage funding as VCs focused on their existing portfolio. As a result, we saw some big 'top-up' rounds for brand name fintechs - with most being announced in Q2. It seemed like there was a gap emerging between early-stage startups and those who had achieved product-market-fit. A two-speed vibe to the fintech sector was emerging.
Then something interesting happened - the world doubled (and in some verticals, tripled) down on digital. We turned Zoom into a verb, we Shopified till our thumbs hurt, and Yolo traded our hearts out on Robinhood. As Q2 2020 kicked off, some clear trends began to emerge, and capital markets started to come back.
It was clear that in a world where shelter in place and work from home was becoming the norm, the need for digitally native solutions was more significant than ever. The best example of this was e-commerce - what had taken ten years to achieve in terms of market penetration was achieved in only a few months as we all accepted we were now web-native citizens.
📊 Funding Came Back In Q2 For Most
As confidence and FOMO began to set in, investors reached into their stores of dry powder and loaded up their shots. As a result, we saw an uptick in funding in Q2 (up 17% QoQ) and some big deals announced.
Stripe announced a $600m round in April

Robinhood announced a $600m series in June; and

Nubank announced a raise of $300m in June.
As noted above, these rounds were predominately VCs re-upping existing portfolio companies. This was a big theme for Q2 as fintech hit a new high for 'mega-rounds' (i.e. rounds >$100m). According to CBInsights, in total, there were 28 mega-rounds - but only one new Unicron was born (Upgrade).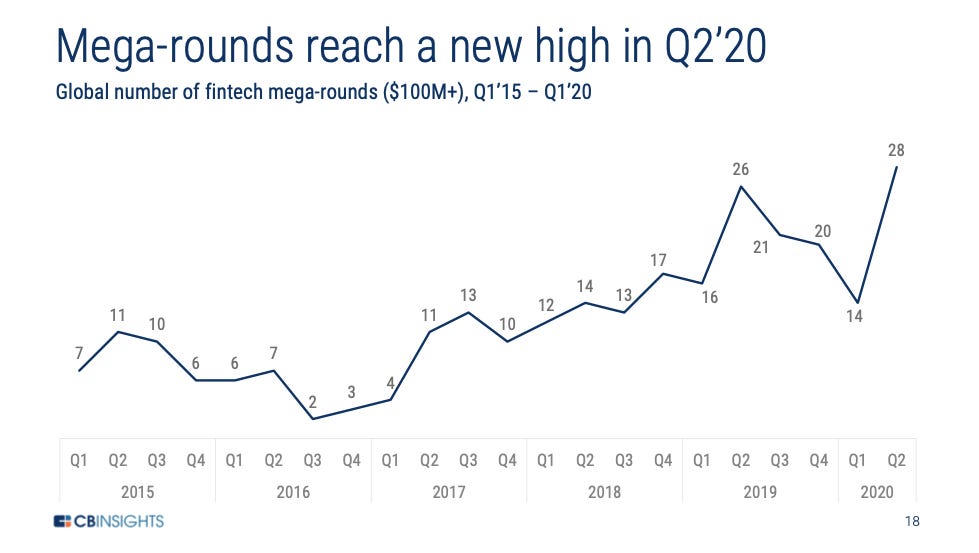 In terms of geographies, the US ran the board with roughly half of all deals done by dollar volume completed in the US. The UK came in second, and interestingly India was in the number three slot. On a separate note, I expect to see more activity coming out of India this year as investors wake up to the opportunities in that jurisdiction.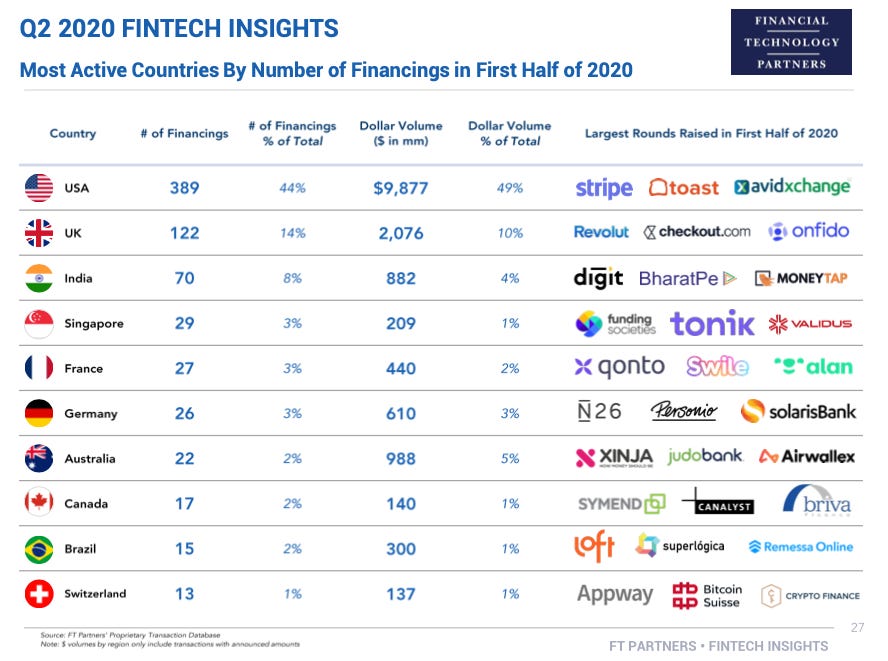 🤑 Stonks
In Q2, we also saw the stock (/stonks) market hit nosebleed levels. Along with this, listings came roaring back and some big-name (and not so big name) fintechs hit the public markets.
Probably the highest-profile fintech listing of Q2 was neoinsurer, Lemonade. They listed to a big first-day pop (↑ 139%) that seemed to get the market reinvigorated about insurtech startups. We also saw bank CRM provider nCino list and payments provider Shift4 Payments hit the market - both doing well on a hot NASDAQ. However, the biggest winner of the blazingly hot public market was Robinhood.
Robinhood was on fire in Q2. According to reports, they saw 4.3 million daily average revenue trades in June alone - which was higher than any of the listed incumbent brokerage firms. However, along with it's skyrocketing popularity came crippling outages and concerns about how their product was luring inexperienced traders into overextending themselves. Regardless, people pilled into the public markets and used them to take their shot. Having said this, they weren't the only winners and the rising tide lifted all zero brokerage fee ships.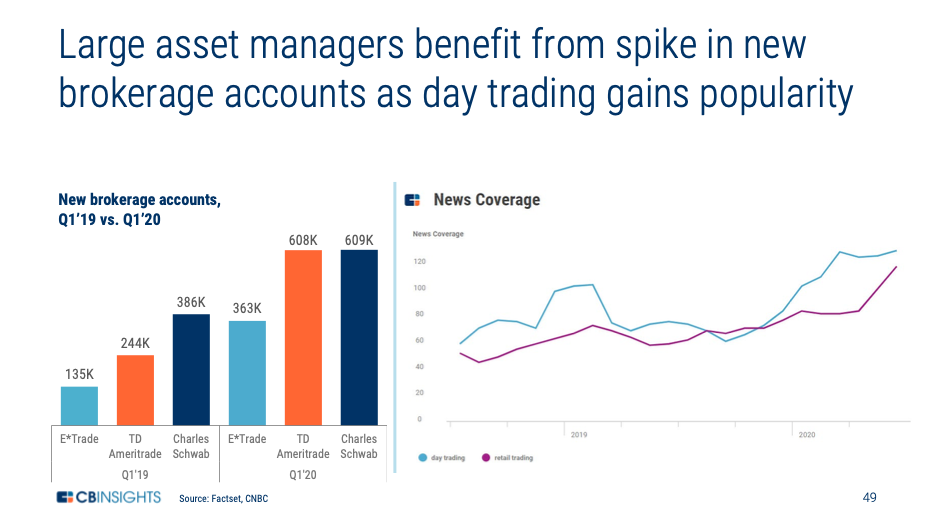 🏗️ Fintech Infrastructure Continued To Be A Hot Commodity
If Twitter was anything to go by, this was the only thing that mattered in fintech in Q2. The number of Medium posts referencing embedded fintech must be at an all-time high, and I imagine the A16Z website is buckling under the weight of all the traffic they must be getting to their post on why "Every Company Will Be a Fintech Company."
The short version of why this space has heated up so much: everyone wants a piece of the new financial pipes. The TAM based version of this argument is that as everyone moves to incorporate some form of embedded financial services (the Harrisonian Fintech Is The Forth Platform argument), this is where a ton of value will be generated - in the picks and shovels. On this basis, many expect the market for fintech infrastructure to boom (see THIS article from Ron Shevlin for some recent data).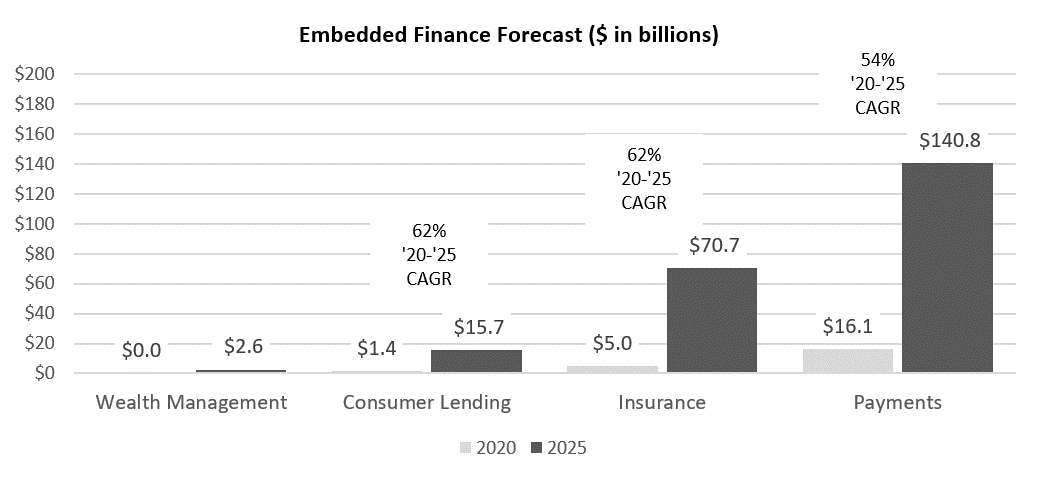 M&A continued to be hot in the fintech infrastructure vertical during the quarter, with the two most significant acquisitions both being of infrastructure companies - SoFi bought Galileo for $1.2bn, and Mastercard bought Finicity for $1bn.
🤷‍♂️ So Q3 2020…
In the current environment, trying to predict what's going to happen over the next fortnight is hard, let alone for a whole quarter… regardless, here I go:
We'll see more money pour into the sector. It's already looking like a big quarter with some hefty rounds coming together 🤫 Also, the emergence of more operator funds will push new angel/operator money into the sector.

There'll be continued interest in infrastructure - it'll still mostly be payments, but I think more interest in the things like embedded insurance will emerge.

More money will be deployed into unicorns, as a few take this window in public markets to accelerate plans for a listing.

I think we'll see challenger banks start to pull back from international expansion this quarter. For example, the US is looking less and less likely to be taken by a foreign fintech invader.

This is a bit of wildcard, but I think we'll see a bank make a +$bn acquisition. It'll most likely be an infrastructure acquisition… but maybe DJ D-Sol decides to accelerate GS's moves into consumer banking and goes big.
Don't worry, at the end of Q3 I'll circle back and do a review of these predictions, and we can collectively laugh at how off base I was 😂
---
📖 References
The data for this piece was organically farmed from the following reports: